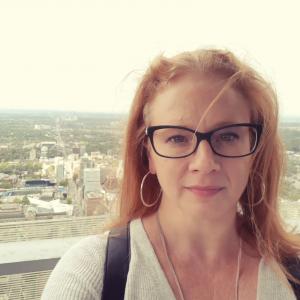 Kelly-Marie Murtha
Artist member since 2019
Toronto, Ontario
I've been an artist all my life, in one form or another. An actor, A filmmaker. A singer, A musician. A painter. Art is life for me. The need to create is what keeps me alive. I feel that I should have some profound statement but i don't. I simply enjoy making art. I enjoy making it for myself and I enjoy making it for others. My father calls me an engaging artist. I love to share my work and talk to people about my work, my process, my tools. I love to hear from other artists and to learn from them, their techniques, their successes, their failures. Its amazing how art can bring complete strangers together, if just for a moment, to share in something they have in common. A desire to be moved, to get lost in or to simply enjoy art. That is all I wish for those who see my work. That I can fulfill that desire in them or perhaps to awaken it.
---
In a previous life I was (a) ...
an Irish pirate by the name of Grace O'Malley
I'm really good at making (a) ...
veggie samosas!
What kind of artwork do you have in your home?
my father's, my husband's and mine
Which piece of art you've created is your favourite, and why?
its a watercolour of a piano and I took old sheet music and put it in and painted over it - it hung in the Ontario Legislature Building last year.
Favourite medium
right now is resin - gives me the vibrancy of acrylic and the fluidity of watercolours
Why is art important to you?
it gives me life, a purpose to get up in the morning - it makes me smile when I've finished a piece - it makes me proud
What do you mean, "try"?
Try-before-you-buy with a 3 month rental. 100% of your rental payments go towards the purchase (interest free). Message the artist directly, and start the conversation.
---
Art made (truly) affordable
We make it easy for you to try art with smart payment plans and try-before-you-buy models.
See How It Works
---
You're covered.
Artwork protection is included on all art rentals up to $5K. Our Customer Care team is always here to help.
Contact Us
---
Unlock Trade Access
For industries including interior design, film/TV production, & real estate staging: rent original pieces that fit with your project vision, budget and timeline.
Apply for Trade Access
---
1% from every transaction goes towards SKETCH WORKING ARTS.